Why Do Solar Panel Systems Need Upgrading
Jan 09, 2021
In the early days of Solar panel installations, many or most of the systems installed were "wired in series". Wired in series means that the electricity from each solar panel flows through to the next, like a chain. If there is a faulty or underperfoming panel it will affect the whole output of the system as it can only perform as good as it's weakest panel.
When your whole solar panel system is reliant on the worst performing panel it makes the smallest things matter, things you would never have thought of including:
Shading from trees, buildings etc.
Dust and dirt
Broken or faulty panel
Fallen leaves or bird droppings
If any of the things above affect just one of your solar panels it will affect every other panel, bringing down the overall efficiency of the system. Don't worry if your system is wired in series, there are solutions!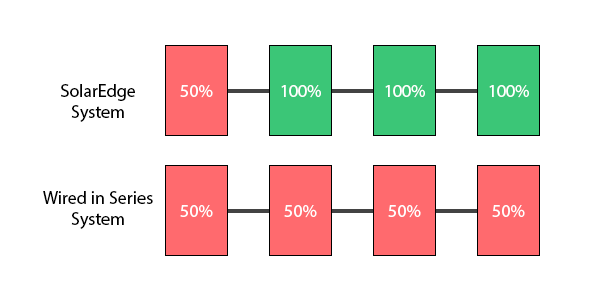 Getting To The Problem
Our team have installed hundreds of solar panel systems and have a lot of experience with all types of installations. Our engineers use their experience and expertise to quickly diagnose any fault or problem with your installation. Our engineers will check for things like, shading, panel degredation, corrosion, overall system generation and much more.
If your system or inverter is out of warranty or your original installer is no longer trading you can contact us and we can send out one of our solar engineers to diagnose and fix any problems with your system.
If you decide it's time for you to upgrade your system, we can conduct a free site survey and quickly provide you with an estimate for the installation. Once your system has been upgraded, we can connect you to the SolarEdge portal, where we can monitor your system for you.
The Next Generation
My Contribution are certified SolarEdge installers in West Wales, and we install SolarEdge inverters and power optimisers. This system tackles all of the problems associated with the wired in series installations. Our team installs a power optimiser on each solar panel and wire them in parallel, meaning each solar panel is working independentally of each other and won't be affected by underperforming or damaged panels.
The SolarEdge inverter houses the brains behind the equipment. SolarEdge have designed the inverter to maximise your system's output and with safety in mind. In the event of a power cut or fire, the system activates the power optimiser SafeDC feature which de-energises the solar panels to touch-safe levels for the safety of installers, maintainence workers and firefighters.
As with everything now, the inverter is connected to the internet and sends data toan online portal, accessible anywhere in the world as long as you have an internet connection. The online portal provides reports and live data on how your solar panel system is performing.
A new inverter with live monitoring would be able to alert the owner of the system or even the installer to a fault automatically, minimising the loss of electricity and effectively money. Something a traditional installation wouldn't be able to do.
SolarEdge provide a standard 25 year warranty on the power optimisers and 12 years on the inverter which is also extendable to 20/25 years, this includes monitoring free for the lifetime of your system.
What Next?
Contact our team on 01834 888330 or contact us through our website. We can book you a free site survey to asses your current solar panel installation and give you advice on taking your next steps.